Overview
Edit
The Ao Oni (青鬼, Ao Oni?) novel is based on the games of the same name, and is the first licensed merchandise of the franchise. More specifically, the novel is based on Version 3.0. As of May 31st, 2013, the Novel had exceeded 10,000 sales. A sequel to the novel, known as Ao Oni Vengence, was released on December 20th, 2013, for the same price. The novel also features a small Manga portion.
Shun is a dejected transfer student who couldn't fit in with the rest of his class. When the rumors started to go around that a monster had appeared in the western-styled jailhouse, he encountered Hiroshi and his friends, and the five of them set foot inside the mansion. Later on in the series, Hiroshi is the main protagonist and must now save Takuro and the others with Shun and Anna's help. Later in the series, Naoki is currently having a manga about before Shun's transfer and meeting Anna.
Announcement
Edit
On the 28th of December, 2012, noprops announced via a blog post on MyNikki the production of an official Ao Oni novel written in Japanese. Similar announcements were made via Twitter and on the official website.
The novel became available for pre-order on the same day for ¥1,000 (approximately $11.62) and was released in early 2013. An official website for the novel was soon launched. Another site, used to sell various other merchandise for the series, was also released. This includes buttons, a book cover and the book itself. A promotional bookmark was available in certain Japanese bookstores.
Japanese hobby site AmiAmi sells an official book cover and clear file sets that feature art from the novel.
Characters
Edit
The novel features the main four characters from the game in addition to three new characters. New characters are added to the newer parts of the series.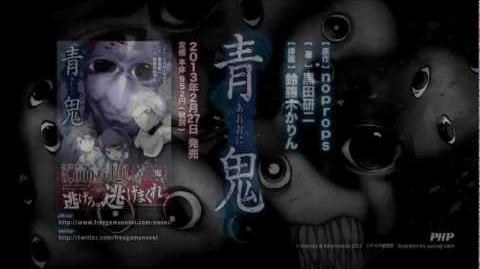 Community content is available under
CC-BY-SA
unless otherwise noted.