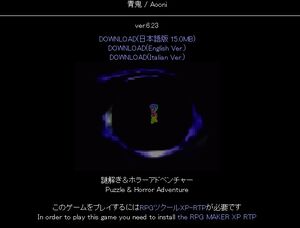 To install Ao Oni, it is recommended that you download it from the source website, rather than some hosting hub. This will ensure that you have the genuine and latest version. It is not possible to download previous versions of the game from the official website.
Only versions of the game made in RPG Maker XP will require you to download and install the RTP (step 1 above). Check the downloads page for more information on which versions require the RTP.
If you are installing and running an older version of the game, you may experience the

Missing Text Glitch.

This means that you cannot play any Ao Oni games until you reinstall it.

Set your system locale to Japanese.

Instructions: Ao Oni was created with RPG Maker XP game engine. In order to play, you will need to download and install the RTP (Runtime Package). It does not affect your computer and can be uninstalled at any time. The RTP can be downloaded here.  By default, RPG Maker VX Ace is selected.  Be sure to select the RPG Maker XP file.
If you should receive an error message "RGSS102e.dll not found" or "unable to find RTP-Standard", it is likely because you installed RPG Maker VX Ace, instead of RPG Maker XP. Refer to the above link and make sure to select RPG Maker XP.
Community content is available under
CC-BY-SA
unless otherwise noted.